Anne was leaving Monaco for the new career that was waiting for her in Singapore. She was excited to start finding property agents in Singapore so that she could rent an amazing apartment. With Propseller, Anne managed to secure the apartment of her dreams in just 7 days!
My Profile:
Name: Anne C.
Deal side: Tenant
Property Type: Condominium
District: Singapore, Pasir Panjang
Phase 1: Finding property agents specialised for expats in Singapore
At the start of 2018, I got a job offer in Singapore, and that was when my hunt began. Because I wasn't familiar with the local property scene, I knew that my first step had to be finding property agents specialised for expats in Singapore. I also looked at property listings, but the more I saw, the more overwhelmed I got. I didn't know how long each listing would be available for, and there was no way to filter them according to furnished or non-furnished properties. It was just too much of a hassle to deal with.
While I was doing my research, I saw someone recommending Propseller on Facebook. I checked out the website, and someone got in touch with me immediately. The Propseller team was a huge asset in reducing my workload in finding expat-specialised property agents in Singapore. They gave me a list of agents to consider and recommended me Marie-Christine because I wanted an agent who could speak French.
The fact that Marie-Christine spoke the same language as I was a huge plus. This meant that I didn't have to struggle to explain myself in English! She was also used to working with expats which I liked. Before I left Monaco, we spoke via Skype and she assured me that she would get everything settled on her end.
Knowing that someone was helping me search for the perfect apartment was great. I could put my mind at ease, and concentrate on working out my other logistics. It felt as though a weight had been lifted off my shoulders, and I knew that Marie-Christine would take care of this for me!
Phase 2: In 9 viewings, I found my dream apartment 15 mins from my office
I arrived in Singapore on 8th March 2018. My company had kindly paid for a serviced apartment for one month, so I had some time to search for an apartment. Right off the bat, Marie-Christine had a few options for me to look at. I previously told her that I wanted an apartment with a view of the sea, and wasn't in a noisy neighbourhood. It also had to be near my workplace at Mapletree Business City. Back in Monaco, my home was 3 minutes away from my workspace… and I wanted to have that same luxury here in Singapore!
On the first day that we met, we looked at about 8 or 9 places in total. Marie-Christine had put together a good selection for me. Some of the apartments were newer and smaller, some were older and larger. This gave me a good idea of what I could get with my budget.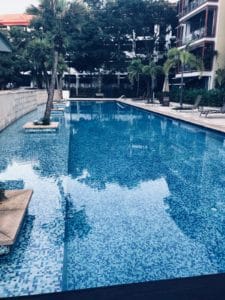 On that first day of apartment-viewing, I liked one of the apartments (at Treasure Place Condominium) a lot. From this condo, I could walk to my workplace in just 15 minutes – which is just what I needed! Sadly, someone else was ready to make an offer, and I hadn't gotten my funds wired over from France yet. I was a little disappointed, but the next day, Marie-Christine called to tell me there was another unit up for grabs at the same condo. We went down immediately; in fact, I was the very first person to view the place.
Phase 3: I secured the apartment within a week of arriving to Singapore
I really wanted to rent this place, but my funds hadn't arrived yet. So I spoke to the owner and explained my situation to them. I told them that I own several properties that I rent out in France, and reassured them that as a home-owner myself, I'd take good care of their place. It worked! The owners agreed to wait a few days for me to get my money, and once my funds were in, I placed a deposit immediately.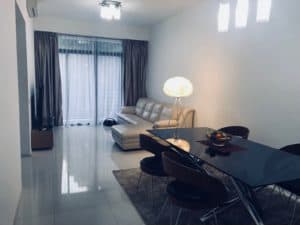 All in all, I made a deposit and secured my apartment within a week of arriving in Singapore. It was such a quick and stress-free process!
Phase 4: Final thoughts, my agent was reliable, responsive and went above and beyond to help me
It feels like just yesterday when I was finding property agents in Singapore, but now I have my very own apartment (that I love!) Honestly, I was pretty amazed at how easy it was to find an apartment in Singapore. Back in France, liaising with agents is a complete nightmare. Even if you're ready to spend half a million Euros on a property, they're very unresponsive.
In contrast to that, I had a wonderful experience looking for my flat in Singapore. Marie-Christine is a wonderful agent, and she's always quick to reply me via Whatsapp – even outside office hours. She was always there when I had any questions or doubts, and I felt like I was in good hands the whole way.
In France, I didn't have such a service to help me find specialised property agents for expats for example, you never know which agent is good and which one isn't. The main difference lies in the fact that Propseller screened and recommended Marie-Christine to me. Before even working with her, I knew I was in good hands. A huge thanks goes to Propseller for putting me in touch with her. For anyone who's looking for a property agent in Singapore, I highly recommend Propseller!
The next success story can be yours.