Many of us don't think about children when getting our first home. But as the family grows, the need for more space becomes real. Nicole Chow, mother of one, was planning to have a larger family. But her 3-room HDB in Yishun was too small.
Nicole and her family were referred to Propseller by another satisfied client. Dave Teo, Senior Real Estate Consultant at Propseller, was able to negotiate a $32,000 COV offer for the flat in 8 viewings. "Dave understands our needs very much… and managed to close the deal at the price that we are asking for", said Nicole.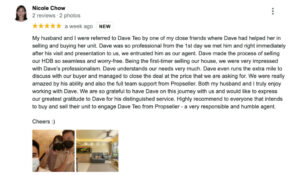 Nicole's 5-star Google Review for Propseller (November 2022)
Standing out From the Crowd To Achieve Profits

The housing market can be unpredictable, and the demand for Nicole's flat was not as high as expected. There were 9 other competing listings, and interest rates were going up. "We take a holistic approach to selling properties – it's not just about finding a buyer, it's about finding the right buyer at the right price.", Dave said.
The flat was ideal for a smaller family. All it needed was the right marketing tactics and strategic advertising to stand out from the crowd. By distributing the listing on over 7 property portals with professional listing photos and strategic pricing, Propseller had 16 interested prospects within a week. After 8 viewings, it was sold.
Nicole's property listing photos, taken by professional photographers
The Propseller Difference: A better and more comprehensive service

Unlike typical property agents who have to handle the entire sale process single-handedly, Propseller clients get assigned a full team of specialists that supports agents in valuation, listing marketing, professional photography, 3D virtual tours, and advertising on over 7 property portals.
This helps optimize the process every step of the way, delivering results faster than solo agents. On top of the team effort, Propseller has accumulated learnings and data from the 1,600+ homes they have transacted, giving them extra experience in all aspects of a property sale (valuation, listing marketing and negotiation).
Another of Propseller's unique features is a dashboard that lets sellers track all enquiries, viewings, feedback, and offers for their property.
Track your sale anytime, from anywhere with your Owner Dashboard: Listing Performance, Viewings Feedback, Offers, Property Valuation
Propseller's success also lies in its Real Estate Consultants' specialization in certain areas of Singapore. It was no doubt that Dave Teo, ranked #4 agent in District 27 (Yishun/Sembawng)*, was the best agent to sell Nicole's Yishun unit.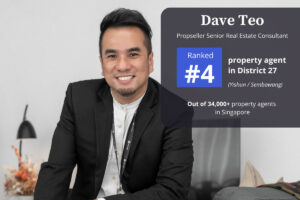 *Source: data.gov.sg, Resale Residential Transactions in 2022
Best of all, this comprehensive service is all-inclusive for 1% commission, half the market rate.
"Dave made the process of selling our HDB so seamless and worry-free. Being first-timers selling our house, we were very impressed" said Nicole. "We were really amazed by his ability and also the full team support from Propseller."
Looking to sell your property?
Fill out the form for a free consultation – no strings attached.