Singapore, 30 August 2022 – Singapore-headquartered PropTech start-up Propseller today announces a US$12M (S$16M) Series A funding led by Vertex Ventures Southeast Asia and India.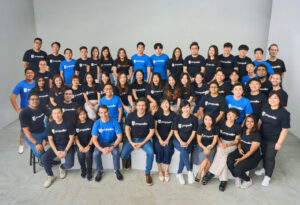 Propseller's Team
The round saw participation from existing investors Hustle Fund, Iterative, and Rapzo Capital, and new investors Partech, ICCP SBI, Vulpes Ventures and Redbadge Pacific. Noticeably, the round also saw participation of a dream-list of prominent PropTech founder such as Jani Rautiainen (Co-founder, PropertyGuru), Marta Higuera (Co-founder, OpenAgent), Steffen Wicker (Co-founder and CEO, Homeday), and Tushar Garg (Co-founder and CEO, Flyhomes).
The funds will enable Propseller to scale its core business model, expand its line-up of services and explore overseas markets. The 50 people company plans to hire 200 new people across the marketing, operations, product, engineering, and sales and real estate functions.
Founded in 2018, Propseller is a tech-powered real estate agency employing in-house salaried agents backed by technology and centralized operations. The model enables Propseller to control every aspect of a real estate transaction and to offer consumers the most transparent and reliable way to sell a property for a commission as low as one percent – half the market rate in Singapore.
"We believe that people deserve extraordinary service when selling their home, which often represents 70% or more of their wealth. Yet, consumers are still dealing with property agents who close on average less than 2 sales transactions per year each while generally charging a two percent commission. Our business model addresses this industry challenge by elevating our service for consumers while charging a lower cost. Our Real Estate Consultants each closed in 2021 25x more transactions than a traditional agent and consumers rated our service 4.8 out of 5 across 500+ public reviews, all thanks to our technology." Adrien Jorge, Founder and CEO of Propseller said.
Commenting on the investment, Carmen Yuen, General Partner, Vertex Ventures Southeast Asia and India, said, "We are excited to back Adrien and his team as Propseller is revolutionizing the way we transact our homes in a more cost and time-efficient way, using technology and data. We've followed the Propseller team for more than 2 years now and they have demonstrated impressive resilience and growth over the years. We look forward to partnering and supporting them as they continue their exciting journey to transform real estate."
In October 2020, Propseller raised US$1.2 million Seed funding from Hustle Fund, Iterative, XA Network, Rapzo Capital, Stein Jakob (Co-founder, Lazada) and Ben Neve (Founder, Dot Property). In 2021, Propseller observed a 1,000% growth of its revenue year-over-year and reached profitability.
"Propseller is positioned at the cross-road of two major shifts in consumer behaviors, triggered by COVID. Firstly, the flight from offline to online for everything including high-value items such as real estate. Secondly, an unprecedented work-from-home movement making millions of consumers want to move to a larger home than the one they are currently in. Over the last few years, we built the best solution to sell a home. It's now time to open a new chapter and build the best solution not just to sell, but to move. We have a once-in-a-lifetime opportunity to democratize wealth creation while building the largest transactional real estate brand ever seen." Adrien Jorge added.
—
About Propseller
Propseller is the Modern Real Estate Agency that stands by you – Singapore's number one tech-powered real estate agency offering the most reliable way to successfully and efficiently sell, buy or rent a property.
For more information, please visit https://propseller.com/
About Vertex Ventures Southeast Asia and India
Vertex Ventures Southeast Asia and India invests in high-growth start-ups seeking their first round of institutional venture capital funding in Southeast Asia and India, with a primary focus on Singapore, India, Indonesia, Thailand and other emerging hubs of innovation across the region. It has a long and strong track record of investing in early-stage start-ups and building champions like Grab, PatSnap, 17Live, Nium, FirstCry, Licious, AsianParent, Validus, Warung Pintar, Aruna and others.
Vertex Ventures Southeast Asia and India is part of the Vertex global network of venture capital funds. Its global network also comprises affiliates in Silicon Valley, China, and Israel. A trusted partner to some of the world's most innovative entrepreneurs, Vertex supports its portfolio companies with unmatched operating experience and deep access to the capital, talent, partners, and customers they need to build truly global businesses.
For more information, please visit https://www.vertexventures.sg/