People looking to engage the service of a property agent uses Propseller to find the best-performing ones, eventually helping them to save time and achieve better results.
Singapore / December 6th, 2018 – Propseller, a Singaporean startup that helps prospective property sellers and landlords find and compare the best property agents, today announced it has closed a S$1 million seed funding round from industry entrepreneurs and senior executives. The funds will be used to accelerate its growth and further develop its technology focused on a "transparent approach" to select an agent using independent reviews and agents' track records. This goes hand in hand with the "Industry Transformation Map" announced in february 2018. Along with the founder Adrien Jorge, a former Groupon senior executive and property investor, the team of 7 has already put up for sale and rent a staggering combined property value of S$500m within only 12 months.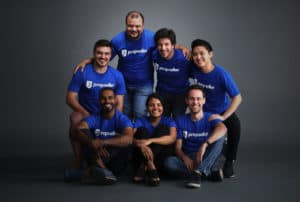 With 30,000 registered property agent in Singapore, 2.7 times more than doctors, how would a property owner looking to sell or rent select the good agent(s), the one(s) providing great advises, closing a deal fast and at the best price? Looking for advertisements or for recommendations from relatives or friends could be an option but is this thorough enough? May be not. "Too often, owners waste time with unprofessional agents not delivering." says Adrien Jorge, the founder of Propseller, previously general manager at Groupon for South-East Asia and owner of 5 properties. He sheds lights on a situation he experienced himself "It happened to me 3 times until I found reliable property agents." According to him, the issue would be with "transparency and accountability" missing in the industry. An observation shared by the Singapore government, with second minister Mr Desmond Lee announcing earlier this year the Real Estate Industry Transformation Map which part of aims at setting the ground for more transparency about property agents track record.
Consumers seeking quality and transparency can now use Propseller to compare individual agents. The startup is the first and only independent player that collects and verifies ratings and analyses historical transaction data of agents from any agency in Singapore. Within one minute, the user is presented with a list of the best 3 to 10 estate agents based on both the given criteria and agents' track record while receiving advices on fair commission. "To successfully sell an HDB in Tampines and to rent a condo in Orchard, you need two very different types of agents. Nevertheless, in both cases, you need to engage a top professional with a track record of success rather than a part-timer desperately trying to do his best." says Adrien Jorge.
Only 12 months after launch, S$500 million in combined property value has already been put up for sale or rent by the owners using the platform. On the agent side, the traction is just as high, with 500 handpicked agents – from estate agencies such as PropNex, ERA and Sotheby's – embracing the transparency route, joining Propseller and allowing client to rate their services. "We invite only the best agents to join, then we have a very clear game play with them: delivering the highest level of service is the only way for them to build and maintain a reputation on Propseller. We are yet a team of only 7 but contrary to many, including most agencies, our client is the consumer, not the agent and that changes everything."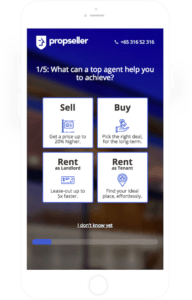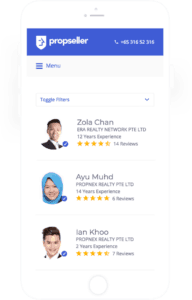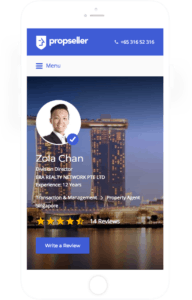 With such a system, the clients using the service have rated the agents recommended to them 4.8/5 on average and provided excellent feedbacks:
Mr.

Ricky Chui

said "My brother tried to sell our HDB on his own for 2 months but it was very hard to find buyers. The agent recommended by Propseller was highly professional, did her homework, knew the area well and sold it within 3 weeks."

Mr.

Alan Nicholl

said "I could not get an offer for my condo for 6 months. I had worked with 3 agents in that time and none of them got me results. I engaged an agent recommended by Propseller and had an offer within 10 days. I wish I had contacted them sooner."

Mr.

Chin Lee

said "In my 7 years as a landlord, some agents charged me double the commission and some I had to chase for responses. I turned to Propseller for renting out my landed property and found the most responsive and reliable agents I've ever worked with."
The startup sees its service as "complementary" to the property listing portals. "PropertyGuru or 99.co are presenting properties to buyers and tenants. But for this to happen, the owner first needs to find an agent who will then advertise the unit on property listing portals, that's the part we facilitate." That is confirmed by its pool of users: "We see interest from foreign tenants and investors who appreciates the guidance of an agent to help them spot a place, but the very vast majority of our clients are local HDB and Condo sellers or landlords looking to work with the best property agents in Singapore."
With the Council of Estate Agents planning to publish all property agents' transaction records by the end of 2018 for HDB and by the end of 2019 for private properties, the company said it will use the funding to get prepared to "transform this larger available dataset into clear recommendations for the consumers". Apart from that, it is looking at playing a deeper role in the consumer-agent relationship. "For now, we are helping people differentiate top from bad agents because what matters most is transaction price and speed; but there are other things we are working on." said the team.
Propseller's model and progress have attracted investments from prestigious business angels. Local entrepreneurs Yang Bin Kwok and Erwan Mace, founders of two of Singapore's most successful startups, Zopim and Muslim Pro respectively, were in the round. They were joined by some industry senior executives. Most notably PJ Vandepitte (global COO of Foodpanda),  and real estate industry veteran Yvan de Rham (former Chairman of Sotheby's International Realty for Switzerland) who commented "Propseller is doing at scale something that the industry needed for a long time: to make agents accountable for their work, from the very first phone call until after the contract is signed."
About Propseller: Propseller is the first "search-to-engage" property agent marketplace in Asia. The company uses clients' reviews, historical transactions, and commission rates to match you with your best property agent, the one(s) making you achieve the most with your real-estate sale or lease.