Pang W. wanted to rent out her condo in Singapore – but she wasn't familiar with the process nor did she know any agents. She enlisted Propseller's help to recommend her an agent, Queen. After completing a few minor renovations as suggested by Queen, Pang successfully rented out her condo in the short span of one week.
My Profile:
Name: Pang W.
Deal side: Landlord
Property Type: Condominium
When I wanted to rent out my condo in Singapore, this was my first step…
Searching for a property agent! I went online and did a Google search, and contacted two platforms in total. My experience with the first platform wasn't great – I had to call them, then email them with a few details and wait for a few days. They didn't get back to me.
With Propseller, things were a lot easier. I just called the number listed on the site and someone from the team answered immediately. I told them about my requirements – basically, I wanted a female agent who was fluent in both English and Mandarin. I also wanted my agent to be able to find me Western tenants. Propseller shared an agent's customer rating, her specialisation in renting out units similar to mine and her experience. She also had all the aspects I was looking for and was the perfect fit for me.
Not just an agent who markets, but one who gives advice
Propseller passed Queen's contact details to me and I Whatsapped her. She replied quickly and we wasted no time in setting up a date for her to look at my property.
Here's what impressed me: after Queen took a look at the place, she gave me a ton of useful suggestions. Among other things, she told me it would be good to repaint the house and replace a few of the appliances so that the place wouldn't look too old and worn.
I did as Queen recommended, and after my place was fixed up, I snapped a few pictures for her to use. She put up listings of the place; within a week, I got an offer!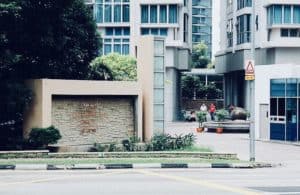 She negotiated my rent up by $400 after the deal closed
Initially, I asked for a monthly rent of $7,000 and this Israeli family was offering the requested price. But my husband stepped in, saying that $7,000 was too little. He was of the opinion that we should ask for $7,500 instead.
Obviously, this threw a spanner in the works. Thankfully, Queen was very understanding and she worked with us and the Israeli family to sort things out. She even spoke to the company that was sponsoring their stay to negotiate for an increase in the budget!
Finally, we settled on a monthly rent of $7,400. Everything worked out nicely in the end!
My experience with Queen and Propseller
All in all, I had a great experience with both Queen and Propseller. Queen was friendly and proactive; she also knew exactly how we had to spruce up my property in order to attract more buyers. On top of that, she was very responsive as well. She replies quickly whenever I contact her and helps me iron out any problems I might have.
I also liked that Propseller's website was straightforward and hassle-free to use. It was easy to get in touch with them; they also recommended me an agent quickly and without delay. I would definitely recommend Propseller to anyone who wants to rent out a condo in Singapore!
The next success story can be yours.