Loic had to move to Singapore for his job, and he didn't have much time on his hands. He immediately started searching for property agents in Singapore, so that he could outsource his property-hunting. After reaching out to Propseller, Loic found an amazing agent who met his needs perfectly. He found the home of his dreams, and the rest is history!
My Profile:
Name: Loic K.
Deal side: Tenant
Property Type: Condominium
District: Kovan
Before moving to Singapore
I was due to move in January 2018, so I started researching and looking up property agents in Singapore. I saw that Propseller was highly recommend on the Paris-Singapour blog, so I had a look, and searched an agent on Propseller.
Unfortunately, my company then told me that my move would be delayed, and that I would only arrive in Singapore in April. Luckily, the lady I spoke to from Propseller was very understanding. She told me she'd contact me in again 6 months later, and recommend me a few agents then, 1 month before my ideal move-in date. I was a little hesitant because I wasn't sure if this would give me enough time to search for a flat. After I voiced out my concerns, the lady I spoke to reassured me that one month was all I needed, and she looked very confident about it.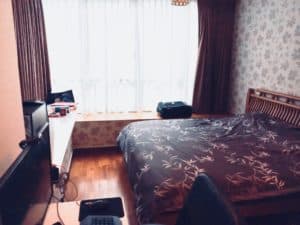 Counting down to my arrival
In March, the lady from Propseller did get in touch with me again. It was great that she remembered to follow up, and that she remembered my name and all my case details. She recommended that I work with Ashley, who is one of the experienced property agents in Singapore that Propseller recommends for expat tenants.
I told Ashley that my budget was $4,000, and that I was looking for a 3BR condominium to rent in the Serangoon area. She got to work immediately and shortlisted a few options for me. I had a lot of things to manage and sort out, and I really needed to outsource house-hunting to someone. It was amazing having Ashley help me out – she took care of everything, and did an amazing job.
The search begins
Although I mentioned that I'd like to stay in Serangoon, I also told Ashley that I didn't know much about the residential areas in Singapore. Despite I've been traveling to Singapore for 2 weeks every month for the last 3 years for work, I'm only familiar with the Marina Bay and Clarke Quay area! Upon hearing this, Ashley decided to introduce me to a few other neighborhoods that she thought would suit me. It was great that she took this initiative!
Luckily, the options that Ashley brought me to see were all very attractive. We went to 10 places in total – some of these were in Serangoon, and some of them were outside Serangoon. Initially, I had told Ashley that I wanted to look at Kensington Park, because it was near the French school where I was going to enroll my daughters at. She shared her honest opinion with me, and told me that it was an old development and that I would probably prefer other places. And she turned out to be right!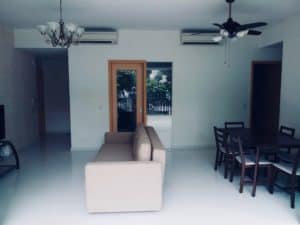 Snagging the ideal condominium
At the end of the day, I settled on a condominium at Kovan – it's near the French School of Singapore and other amenities, and there's a lot of good food in the area. The listed price of the unit was $4,400, but we managed to close the deal at $4,000, or 10% below listed price. As for personal reasons, I prefered to go for a 1-year lease instead of a 2-years lease, I had to pay commission to Ashley, but I was more than happy to do so in regards of the service she provided. She really helped make house-hunting a breeze, and I couldn't have done it without her!
Looking for the best property agents in Singapore?
If you're looking for property agents in Singapore, I can safely say that top agent makes a big difference. Mine made property-hunting easy and fuss-free. We started looking at apartments on a Wednesday, and I signed my lease later that week, on a Saturday. It was that quick and easy!
Ashley was also very receptive to my needs. I told her I wanted to get the house visits over in a single day, and we did just that. We met at 10am and went from apartment to apartment – she even sacrificed her lunch, and we finished our visits by 4pm on the same day.
I was so impressed with the experience provided by Propseller along with Ashley, I actually recommended Propseller to a friend who's moving to Singapore in July this year. I still have difficulties to believe they've made the effort to follow up, and that they recommended me someone who was a perfect fit for my needs. If you are looking a top property agent in Singapore, look no further, go on: propseller.com and they'll take care of everything, you are in safe hands.
The next success story can be yours.