Don't want to be like this property owner? Make sure you find a good property agent in Singapore.
Bad surprises can happen with unprofessional estate agents
When we saw this story circulating on our news feed earlier today, we almost spilled coffee on ourselves. Get this: while trying to market a flat, a property agent in Singapore unwittingly uploaded a naked selfie of the property owner – his client – to multiple property portals!
At first glance, this listing of a maisonette flat in Choa Chu Kang North seems pretty normal. But once you spot the man's reflection – completely naked – in the mirror, there's no unseeing it. Yikes!
A property agent in Singapore unwittingly uploaded a naked selfie of the property owner to multiple property portals!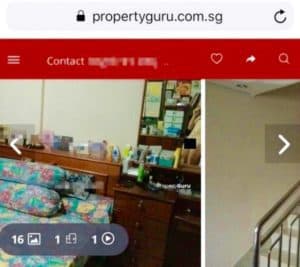 Wondering what prompted the man to stand completely naked in his flat, and start snapping pictures? Don't worry – he's not a nudist, if that's what's crossing your mind. We hear that the owner had just finished cleaning his flat, and was cooling down before he went to take a shower. He decided it would be a good time to capture a few pictures of his flat, and went ahead to do the deed.
Here's what happened next: he sent these pictures to his property agent, who went ahead and put them up on several property sites. Now, we're not calling out anyone here, but this is representative of several issues within the property space in Singapore.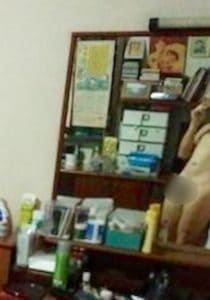 How can this happen?
Firstly, not only the property agent did not engage the service of a professional photographer in order to do a quality marketing for selling this unit, he apparently did not think it was a good idea to visit the unit and take pictures himself. Secondly, the agent uploaded the pictures without even checking them – essentially, he didn't do his job at all. Thirdly, the pictures were up property listing website, including PropertyGuru, for quite some time before a few eagle-eyed netizens realized what was going on. Surely, that property agent could do a better job at shooting professional pictures of his property listings.
The agent posted the pictures he did not shoot himself and without even checking them – essentially, he didn't do his job properly.
The moral of the story? When trying to sell a property, it's important to enlist the help of a good and professional property agent in Singapore. More specifically, look for a property agent who pays attention to detail, and won't mistakenly upload your compromising pictures online!
How To Find A Good Property Agent In Singapore
Step #1: Shortlist agents using Propseller
Instead of rushing into hiring the first property agent you meet, take the time to do your homework, explore your options and compare. Start your search with Propseller, which is an easy-to-use property agent portal. All you need to do is fill in a few simple details, and you'll get matched up with 3 property agents which are highly suited to you. Each agent's profile comes with ratings and reviews – this allows you to choose the best agent to work with, save time and achieve the most!
Step #2: Meet your shortlisted agents face to face
The second step of finding a good property agent in Singapore entails meeting up face-to-face. If you're working with an urgent deadline, you might be tempted to skip this step. But trust us: it's important to arrange for a face-to-face meeting before committing to a property agent. After all, you'll work closely with your agent in the days to come. You'll want to make sure that you're comfortable with them, and that you like them as a person!
During this initial meeting, go ahead and ask as many questions as you'd like. If the property agent shows signs of impatience, or tries to hurry you along, take it as a red flag. At the end of the day, you want to work with someone who takes the time to understand you and your needs. If an agent is too busy to entertain your questions, they're definitely not the right fit!
Step #3: Assess your agent based on their reliability and attention to detail
Before you make your final decision, assess your agent based on their reliability and attention to detail. For example: if they tell you that they'll email you a link to their portfolio, do they make good on their promise? Or do they forget until you remind them about it? The more attentive and detail-oriented they are, the higher the chance that they'll be thorough in checking every single step when helping you sell your property. (This means – no naked selfies online!)
Tired of unprofessional estate agents?