We're thrilled to announce that Propseller has been selected as one of the TOP100 Startups from Asia-Pacific for 2018 by Echelon! As such, Propseller is going to exhibit and pitch at Echelon Asia Summit 2018, held at Singapore Expo on 28th and 29th June 2018.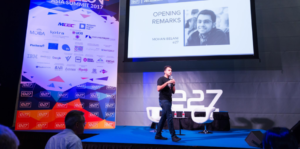 Echelon Asia is a leading Tech & Startup event organized by e27. It brings together the key stakeholders of Southeast Asia's Tech Ecosystem including startups, investors, corporates, governments, tech ecosystem players and customers. A conference of this magnitude with numerous heavyweights in one room has offered a few selected and promising startups the opportunity to showcase what they have to offer, in front of a large and influential audience.
To hand-pick the TOP100 most promising startups for 2018, Echelon Asia searched for the best startups across 23 countries, from Korea to Kazakhstan, and ran a 4 month-long selection process.
Propseller will exhibit at the event with its own booth located at the TOP100 Zone, in Booth Number 35 Red and as one of the finalists, will participate in the pitch competition in front of more than 6,000 participants.
About Propseller
Propseller is the first "search-to-engage" property agent marketplace in Asia. It uses clients' reviews, historical transactions and commission rates to match prospective sellers, landlords, buyers and tenants with their perfect property agent, the one(s) making them achieve the most with their real-estate. Propseller's vision is to bring the transparency and trust needed in real-estate for clients to achieve more and for top property agents to be put under the spotlight. The company was founded in 2017 and is headquartered in Singapore. For more information, visit https://propseller.com/.