The Government has introduced a scheme in which first-time HDB buyers can receive up to $40,000 more in grants for their HDB purchase, through the new Enhanced CPF Housing Grant (EHG). In 2019, 75% of first-time HDB buyers purchased a Build-To-Order (BTO) flat instead of a resale flat. Ten years ago, this number was only at 55%. 
Due to the unaffordability of resale flats, more people, especially young couples just entering the workforce, choose to buy BTOs instead. However, choosing a BTO means they have to compromise on their desired location and size due to the limited options. The government recognised that it would be beneficial to make resale flats more affordable for first-timers and balance the supply of new flats with the demand. For this reason, the Singapore Government introduced the new Enhanced CPF Housing Grant effective from the 11th of September, 2019, and implemented higher income ceilings for first-time applicants' grants – the impact of which will be explained for you in-depth in the article below.
1. New Enhanced CPF Housing Grant & Higher Income Ceilings for First-Timers
In the past, when buying a new flat (like a BTO) buyers could apply for:
Additional CPF Housing Grant (AHG)

Special CPF Housing Grant (SHG)
When buying a resale flat, they could apply for:
Family Grant

Additional CPF Housing Grant (AHG)

Proximity Housing Grant (PHG)
The AHG had a relatively low income ceiling (any household that had a combined income of over $5,000 per month could not enjoy this grant) and the SHG was limited to those buying 4-room or smaller BTO flats in non-mature estates. 
AHG and SHG have now been combined into the Enhanced CPF Housing Grant (EHG), which has the following features:
Grant of up to $80,000

Higher income ceiling of up to $9,000

No restriction on location/estate of the flat being purchased

Applies to both new (BTO/EC/DBSS etc.) and resale flats
With the new Enhanced CPF Housing Grant (EHG), buyers will be eligible for up to $40,000 more in grants for resale flat purchases. If you're buying a resale HDB, other CPF grants such as the Family Grant and the Proximity Housing Grant (PHG) will continue to be available to you along with the new Enhanced CPF Housing Grant (EHG).
Additionally, the income ceilings for all grants have been increased for the first time since 2015, allowing more households to enjoy their benefits. You can see the difference between the grants and income ceilings before vs after 11th Sep, 2019 in the table below.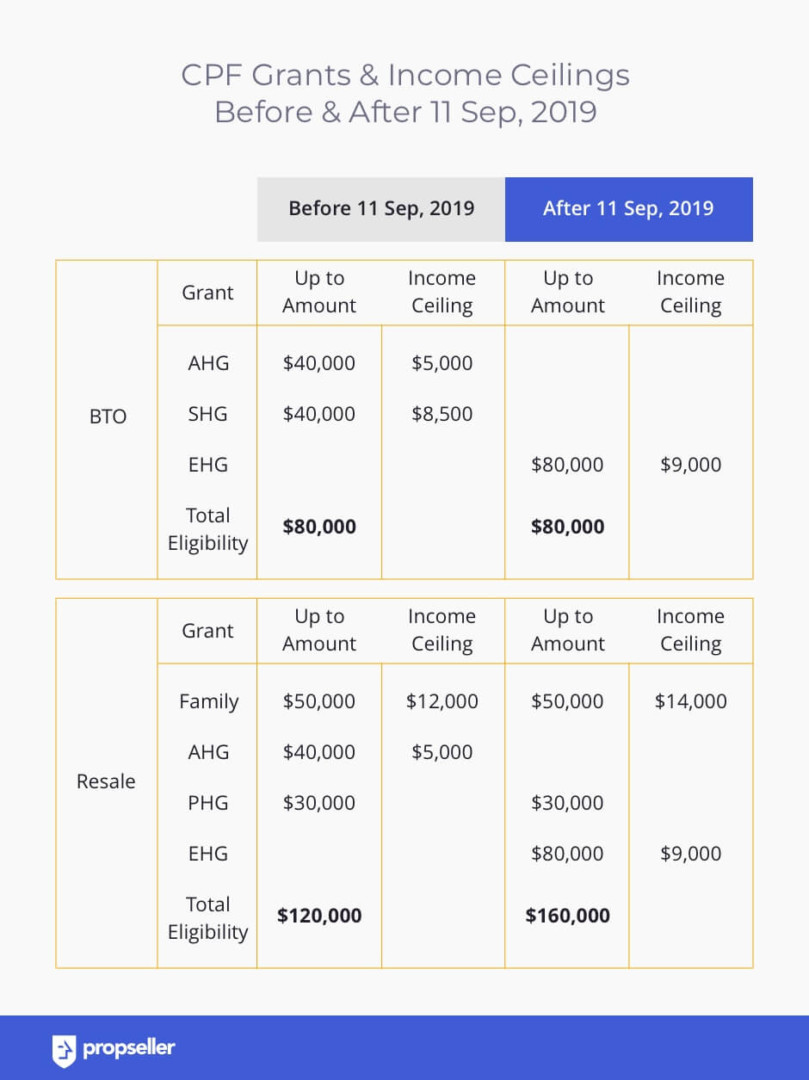 Enhanced CPF Housing Grant – How Much Can I Get?
How much of the grant amount you can enjoy depends on your average monthly household income (including all applicants and occupiers of the flat) over the 12 months prior to your flat application. The lower your household income, the higher your grant amount. 
| | |
| --- | --- |
| Avg. Monthly Household Income | EHG Amount |
| ≤ $1,500 | $80,000 |
| $1,501 – $2,000 | $75,000 |
| $2,001 – $2,500 | $70,000 |
| $2,501 – $3,000 | $65,000 |
| $3,001 – $3,500 | $60,000 |
| $3,501 – $4,000 | $55,000 |
| $4,001 – $4,500 | $50,000 |
| $4,501 – $5,000 | $45,000 |
| $5,001 – $5,500 | $40,000 |
| $5,501 – $6,000 | $35,000 |
| $6,001 – $6,500 | $30,000 |
| $6,501 – $7,000 | $25,000 |
| $7,001 – $7,500 | $20,000 |
| $7,501 – $8,000 | $15,000 |
| $8,001 – $8,500 | $10,000 |
| $8,501 – $9,000 | $5,000 |
2. Leasehold of Flat Purchased
An additional requirement for receiving the EHG is to ensure that the flat purchased has sufficient remaining lease such that the youngest applicant can live up to the age of 95 in that flat. If that is not the case, the EHG will be prorated. The flat being purchased must also have a minimum lease of 20 years. 
Example:
Mark and Vivian are of age 30 and 25 respectively. They fulfil all the eligibility criteria to receive the EHG.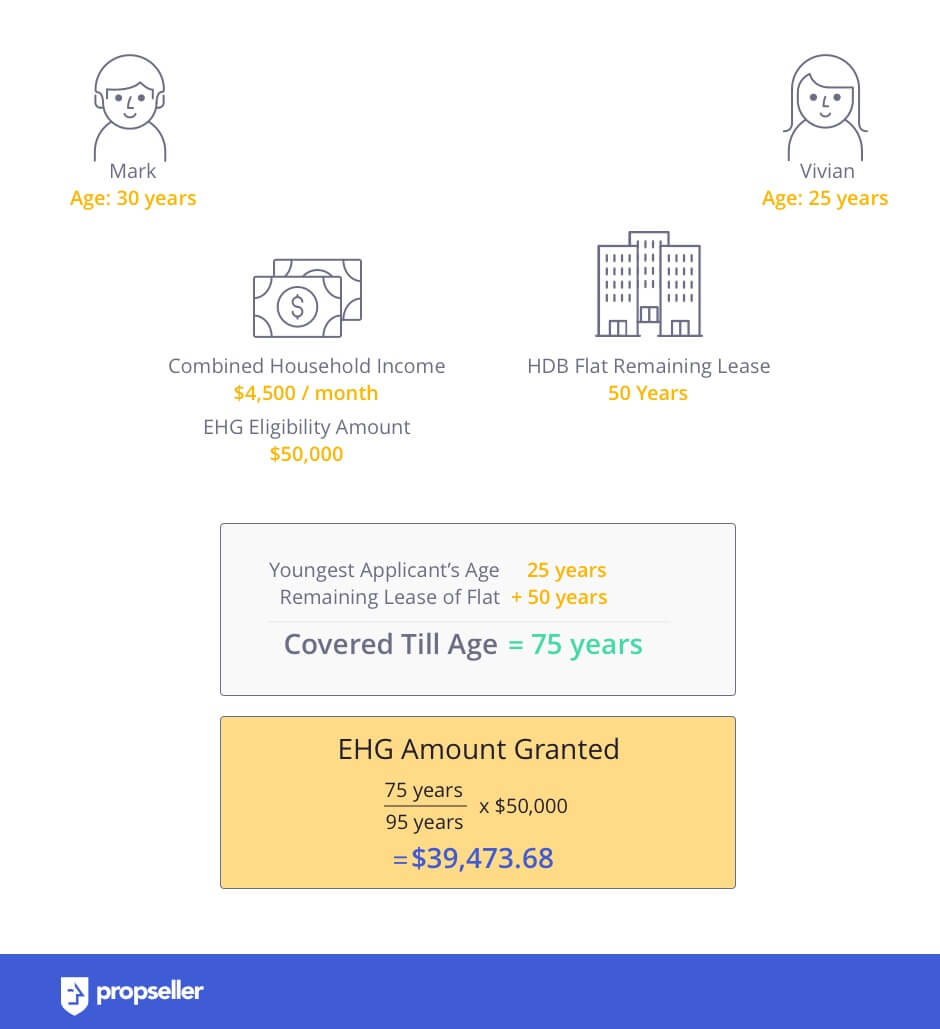 If Mark and Vivian would like to receive the full grant amount of $50,000, they have to buy a flat with at least 70 years remaining lease so that Vivian is covered until the age of 95.
3. Eligibility: Am I Eligible to Receive the New Enhanced CPF Housing Grant (EHG)?
Your eligibility to get the Enhanced CPF Housing Grant will be based on the conditions stated below:
Eligibility Criteria
Description
Citizenship

Grant applicants must be Singapore Citizens. However, if you are a couple with one Singapore Citizen and one Permanent Resident, you can still apply.

Income Ceiling

Average monthly household income over the 12 months prior to application must be ≤ $9,000.

First-Timer Status

You, all your co-applicants and essential occupiers must all be first-time buyers.

Employment Status

You or your spouse must be employed at the time of submission of the flat application as well as for a continuous period of 12 months prior to that.

Remaining Lease of Flat

Flat must have at least 20 years remaining lease and must cover the youngest applicant up to age 95 (if not, the grant amount will be prorated).

Ownership of Other Property

Must not have owned, and if owned, sold at least 30 months ago, any of the below properties:

Private residential property 

Land/Landed property

Building

Overseas property

Applicant Relationship Status

Must apply as a single or with your spouse.
4. Effective From: When is the
New Enhanced CPF Housing Grant (EHG)
Effective From?
The grant is effective for all flat applications submitted on or after the 11th of September, 2019. This means, even if you have issued or exercised an Option to Purchase (OTP) prior to that, as long as your resale/new flat application itself is made on or after the 11th of September, 2019, you are still eligible.
5. Disbursement: How is the
New Enhanced CPF Housing Grant (EHG)
Disbursed? Do I Get it as Cash?
There will not be any cash disbursement. The grant will be disbursed directly into your CPF Ordinary Account if you are eligible.
Type of Applicant(s)
Distribution of Grant

Single SC applicant

Full grant amount in your account.

Joint SC applicants (husband and wife)

Half the grant amount in each person's account.

Multi-nuclei SC applicants, e.g.:

Married couple and their parents

Two siblings and their respective spouses

Grant given to a maximum of 2 applicants who are husband and wife.
6. Downpayment: Can I Use the
New Enhanced CPF Housing Grant (EHG)
for Downpayment?
Yes and no. 
What you can use it for:
You can use it for the CPF part of your downpayment (i.e. 20% for bank loan and 10% for HDB loan).

You can use it to decrease the amount of money needed to buy the flat and hence lower your required principal loan amount.
What you cannot use it for:
If you get a bank loan, it cannot be used towards your minimum cash downpayment of 5%.

It cannot be used for your monthly mortgage instalment payments.
7. Example: How Does the
New Enhanced CPF Housing Grant (EHG)
Help Me? 
The EHG helps subsidise the purchase price of your property and consequently, your monthly mortgage instalment payments in case you take a loan for the balance amount. This opens up a lot more resale flat options to you which may have previously been considered too expensive.
Example:
Mark and Vivian are a married couple where both are Singapore Citizens of age 30 and 25 respectively and have both been employed for a consecutive period of 12 months. 
They have decided to buy a resale HDB flat with 70 years remaining lease and to take the HDB loan which requires a 10% downpayment.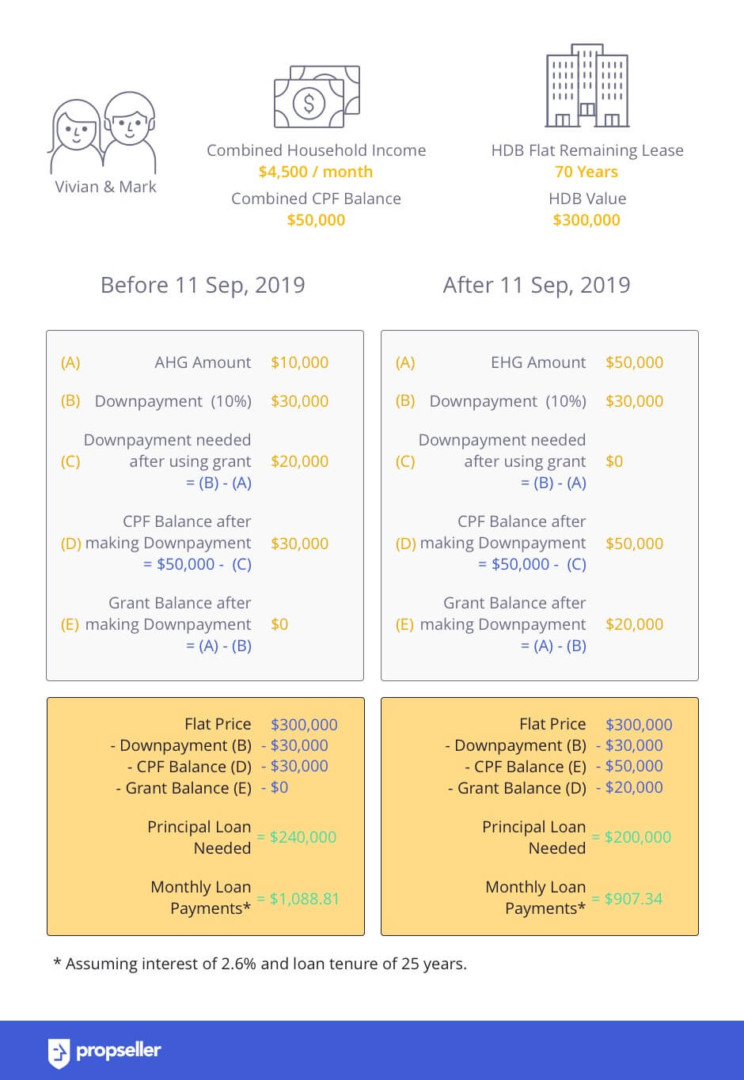 Conclusion
The Enhanced CPF Housing Grant and the increased income ceilings increases the affordability of resale flats for a lot of households, especially ones with young couples looking to make their first property purchase. It could subsidise your flat price as well as lower the required downpayment and monthly mortgage instalment payments by a considerable amount depending on your income level. 
Have any questions about Enhanced CPF Housing Grant or process to buy HDB for first-timers? Ask us in the comments or on the chat icon on the bottom right of your screen!
Need help with your first HDB purchase? Learn more about how Propseller agents can help make your purchasing experience effortless.
Disclaimer: All information and materials contained in these pages including the terms, conditions and descriptions are subject to change. In addition, we do not make any representations or warranties that the information we provide is reliable, accurate or complete or that your access to that information will be uninterrupted, timely or secure.
Whilst every effort has been made to ensure the accuracy of information on the Site, we do not warrant the accuracy, adequacy or completeness and expressly disclaim liability for completeness, accuracy, timeliness, reliability, suitability or availability with respect to the Site or the information and materials contained on the Site for any purpose.