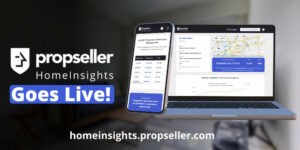 Pricing your property is an important step to unlock the highest gains. When selling, you may be wondering: How much is my property worth in today's market? How have transaction prices evolved in my area? Who are the top-selling agents in my district – and what do past clients say about them?
Propseller, the most loved real estate agency in Singapore, has launched a new free online tool, Propseller HomeInsights that can help you answer these questions and more.
Propseller HomeInsights – Getting free access to powerful market data
Let's dive deeper into the main functionalities of Propseller HomeInsights.
Get an instant home value estimate
With this free tool, you can get an instant estimate of their property's value. This estimate is based on the latest public data on residential transactions and takes into account the current market trends. Just enter your property's postal code, floor size and unit number, and get your free estimate instantly.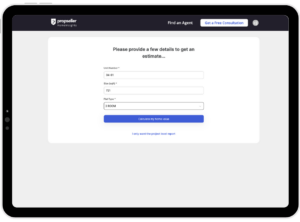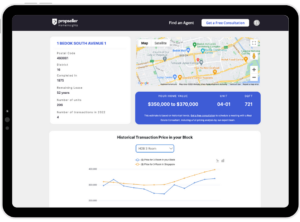 Find historical price trends in your area
Propseller HomeInsights will show you historical price trends in your block or development, compared to the whole Singapore market, as well as detailed information on all recent transactions.
This information can help you understand how the property market has evolved over time, and make more informed decisions when it comes to buying or selling your property. You'll have access to valuable insights that could help you get the best price for your property when the time comes.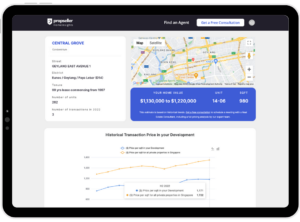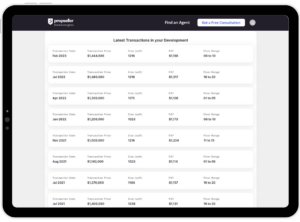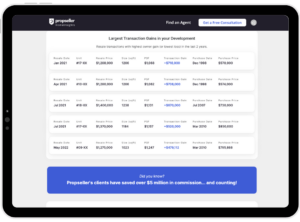 Discover top-selling agents in your district
With Propseller HomeInsights, you can easily search for an agent who meets your specific needs. You can filter by district, ensuring that you find an agent with experience in the area you're interested in.
Additionally, you can read past client reviews to get a sense of an agent's track record and approach.
You can then confidently connect with a top-selling agent who has the expertise to help you sell your property quickly and efficiently. Simply click on "Get a free consultation"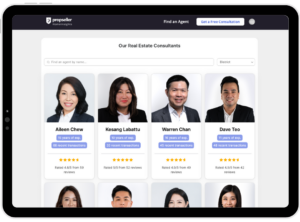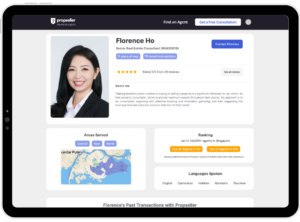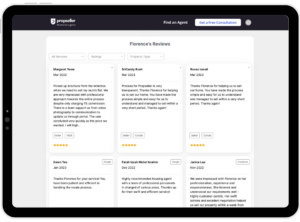 How to unlock your home value estimate? – 3 Easy steps
So, how does Propseller HomeInsights work? Let me walk you through 3 easy steps:
Step 1
Enter Your Property Address – To get started, head over to the Propseller website and enter your property's address.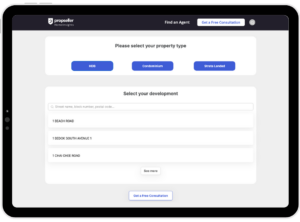 Step 2
Click on "Unlock Your Estimate", and enter additional property details: unit number, floor size, flat type.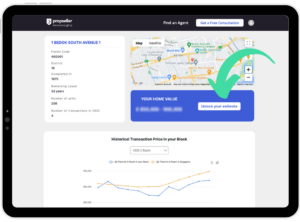 Step 3
Sign up to unlock your property price.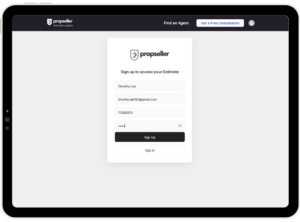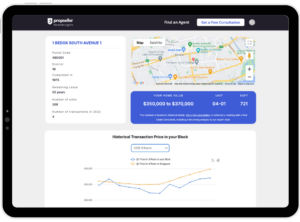 Why should you use Propseller HomeInsights?
Propseller HomeInsights empowers you with valuable insights into the property market, enabling you to make more informed decisions in your property journey. You'll have the data you need to negotiate with confidence and get the best deal possible, fast!
FAQs
Now, I'm sure you have some questions about Propseller HomeInsights. Here are a few answers to some common questions:
What source of data does this tool use?
Propseller HomeInsights is backed by historical data both from official data on residential transactions (source: data.gov.sg) and our in-house expertise. Our tool provides accurate estimates based on the most up-to-date data available.
Where can I find this tool?
You can access Propseller HomeInsights for free through this link. It's quick and easy to use, and you'll have valuable insights into the property market in just a few clicks.
Do I need to pay to use this tool?
No, Propseller HomeInsights is completely free for you to use. We believe that homeowners should have access to valuable insights into the property market without having to pay a fee.
What property info do you need to generate my free estimate on Propseller HomeInsights?
All you need is your property address, floor size, unit number and flat type (applicable for HDBs only). It's quick and easy to use, and you'll have an estimate of your property's value in just a few clicks.
Propseller HomeInsights gives me a price range. Where can I get a more precise valuation report?
Propseller offers detailed pricing analysis through a free consultation with our experienced Real Estate Consultants. You can connect with our agents, either by clicking on Get a Free Consultation, or directly on our agents' profiles. By meeting with an agent, you will get a formal valuation report that provides even more detailed and in-depth insights into the value of your property, taking into account renovation status, competing listings, historical trends, etc.
What if the home estimate does not appear to match its current market price?
It's important to remember that an online estimate is just that – an estimate. The actual price of your property may be higher or lower than the estimate provided by the tool. Factors such as renovations, upgrades, or changes in the local property market can all affect the value of your property. If you're unsure about the value of your property, we recommend connecting with one of our experienced agents here for a formal valuation report. They will provide you with a more detailed analysis of your property's value based on their expertise and knowledge of the local property market.